by Chris Jarvis
It's a common cliché that the quality and abundance of political and protest music is directly proportionate to the awfulness of the broader political landscape. The Vietnam War gave us the great American folk singers. The stagnation, unemployment and neoliberalism's cusp of the 1970s bred punk. Thatcher's Britain brought us the motley crew of rebels surrounding Red Wedge. The rapid and destructive spread of militant capitalism and imperialism at the end of the Cold War bore Rage Against the Machine. Apartheid in South Africa swelled a wonderful mix of pioneering sounds and firebrand resistance.
Unsurprisingly, 2017 was one of those years – a terrifying political context coalescing into a bumper crop of fantastic radical releases. So with a withering nod to the year that was and with a glint of hope in the sounds of revolution, here are the very best radical musical releases 2017 had to offer.

20. Anarchy.ForSale and DSM Global Collective – Rebel Songs from a Prison Planet
2017's best compilation album, Rebel Songs from a Prison Planet is the definitive guide to everything that's going on in anarchist punk across the globe. Featuring the likes of Autonomads and Anti-Venom across 47 tracks this is the only introduction you need to the raucous and rebellious world.
19. Prophets of Rage – Prophets of Rage
You'd be hard pressed to assemble a supergroup of musicians who've as strong and lasting a legacy as those who make up Prophets of Rage. The five members have been involved in some of the most pivotal acts of the last thirty years – Rage Against the Machine, Public Enemy and Cypress Hill to name but a few. It's easy to be disappointed by something of that magic being missing from Prophets of Rage, but in and of itself, this is an album with layer upon layer of catchiness and cool, with just the kind of pithily put together lyricism we'd expect from Chuck D and B Real.
18. Pussy Riot – Police State
After being thrown into international fame for members of the collective's imprisonment for "hooliganism motivated by religious hatred" in 2012, eyes have regularly been on Pussy Riot for the next moves. 2017 saw the release of Police State, their typically damning diatribe accompanied with hard-to-watch video. Politically charged and musically sublime, this is Pussy Riot at their best.
17. Jesus and his Judgemental Father – It Might Get Better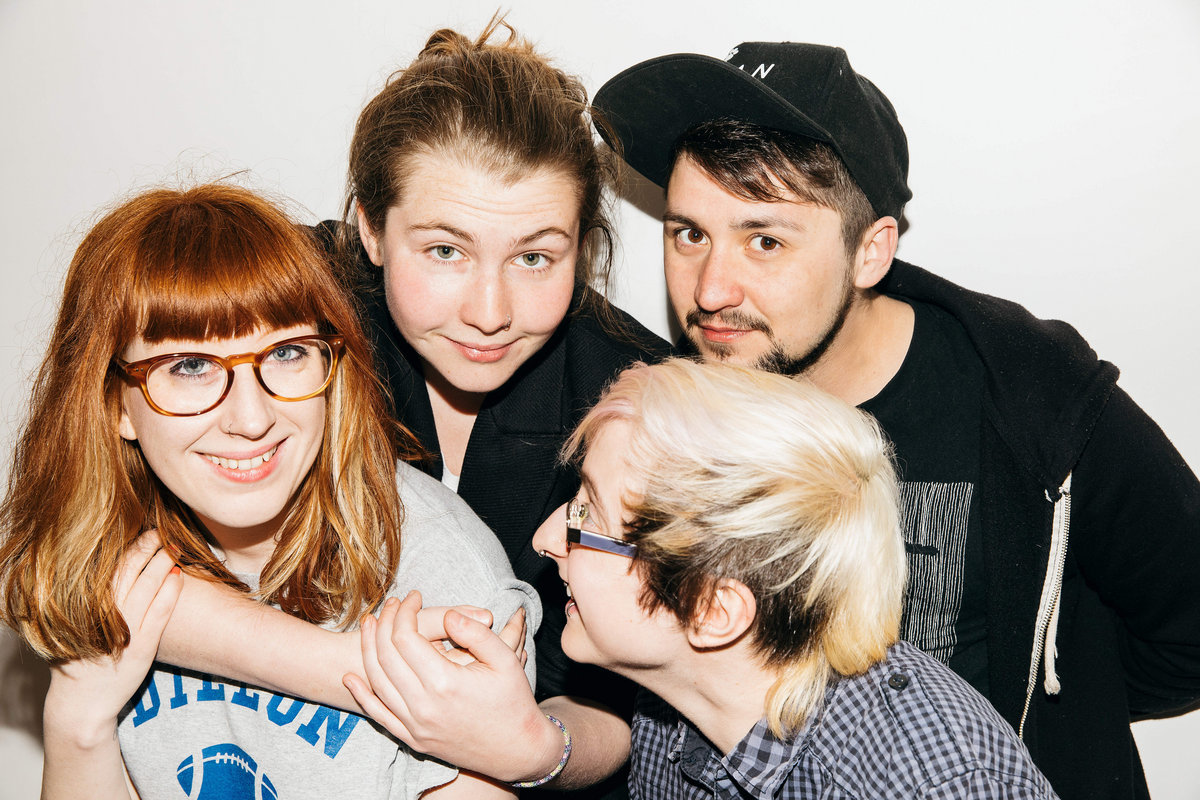 Leeds based melodic punks Jesus and his Judgemental Father returned in 2017 with a long-awaited follow up album. Despite just a little too short – like there's something that should be here that isn't –  It Might Get Better is a solid release through and through, rounded off perfectly by the excellent closer Queer + Damaged.
16. Ibeyi – Ash
The multilingual sisters Lisa-Kaindé and Naomi Diaz that comprise Ibeyi are notoriously talented and innovative musicians, and this is on full display throughout Ash. Slow and soothing, each track slips seamlessly into the next, with iconic song after iconic song – not least No Man is Big Enough for My Arms and Me Voy.
15. Beans on Toast – Cushty
The annual album from festival favourite and folk bard Beans on Toast has become an almost comfortable reminder of regularity in a scarily unpredictable time. Hearing the same handful of chords with new amusing asides about the state of the world in that familiar gravelly drawl comes fresh each and every year, and Cushty is no different.
14. In Evil Hour – Lights Down
If you're looking for a short burst of righteous and melodic anger, look no further than the second album of the north east's eminent hardcore punks In Evil Hour. Regularly drawing comparisons to the likes of Rise Against and Ignite, Lights Down demonstrates exactly why: a visceral howl of resistance in a depressing political landscape, with thoughtful lyrics dressed with a raw punk backing.
13. The Undercover Hippy – Truth and Fiction
The reggae project of Billy Rowan is a wonderfully summery affair, juxtaposed with a sincerely demonstrated set of political beliefs. Rallying against the geopolitical status quo, dominant economic systems and deceptions of politicians, Truth and Fiction is on one level a classic protest album, but on another just a collection of remarkably smooth reggae beats, rhythms and melodies. It's where these coalesce that Truth and Fiction is at its best.
12. Martha – The Winter Fuel Allowance Ineligibility Blues
Martha have gone from strength to strength as each year has gone by, and 2017 is no exception. Throwing protest and romance together in a relatable, evocative and cleverly funny new single – The Winter Fuel Allowance Ineligibility Blues – the Durham pop-punk quartet pull off the ultimate alternative festive song.
11. Algiers – The Underside of Power
With The Underside of Power, Algiers have torn up the rules on sophomore albums. Drawing heavily from a litany of musical styles and influence, yet remaining distinct to the core, this album rallies against injustice with an effortless cool, buoyant on the waves of Franklin Fisher's beautifully harrowing vocal performance.
10. Sonic Boom Six – Cardiac Address
Stripping back and paying homage to their roots, Sonic Boom Six have followed up last year's The F-Bomb with the fast-paced, hard and heavy punk rock Cardiac Address. In the 8 track mini-album that clocks in at under 20 minutes (a quarter of which is in a dubtastic cover of Capdown's Positivity), the veterans have once again shown their versatility and vivacity.
9. Priests – Nothing Feels Natural
Nothing Feels Natural is without doubt the best straight up, no frills punk album of 2017.  Powerfully pulling together the rage and the energy of Riot Grrrl with the effervescence and aurora of post-punk Priests' debut is nothing short of incendiary. With screeching guitar; vocals that are allowed to drift effortlessly into the ether, or else cut suddenly and sharply short; thumping basslines and pounding drums – all coated with a radical politics, Nothing Feels Natural intervention is an unmistakable statement of intent. There's a bright future ahead.
8. ONSIND – We Wilt, We Bloom
There was a time not so long ago when the most exciting and original pop-punk music was coming almost exclusively from County Durham (see ONSIND member's other project Martha above). ONSIND are the acoustic forefathers of all of that, and 2017 saw their powerful return with 9 track We Wilt, We Bloom. Uncharacteristically opting for amplification in the main, familiarity is restored in extensive socio-political analysis, unfathomably addictive guitar hooks and masterful songcraft in what is another stellar album. Never failing to outdo themselves, the indignant Loyalty Festers carefully documents English racism while simultaneously dismantling William Blake's Jerusalem in their uniquely poetic manner is one of their best compositions to date.
7. Joey Bada$$ – All Amerikkkan Bada$$
"Three Ks, two As in America" declares Jo-Vaughn Scott (Joey Bada$$) on in his single Land of the Free, which was poignantly released on January 20 2017 – the date of Donald Trump's inauguration as President of the USA. It is that spirit which runs deep within All Amerikkkan Bada$$,  a rebel-rousing release from the musical successor to East-Coast hip-hop giant Nas.
6. Flogging Molly – Life is Good
It's been six years since the world has been blessed with a new record from the unrivalled monarchs of celtic punk Flogging Molly and 2017 effort Life is Good doesn't disappoint. Fitted with a self-fulfilling title, contributing to its own truth – Life is Good plays host to everything that makes the LA seven-piece so good and so beloved: exquisite musicianship, eclectic songwriting and enthralling storytelling.
5. Paloma Faith – The Architect
Touring with Owen Jones in 2015 (who also makes a brief appearance on this album), and regularly speaking publicly about politics and social justice, Paloma Faith has become perhaps the most prominent advocate of left wing politics in the upper-echelons of the British music industry. Her first album with politics running explicitly throughout, The Architect is also Faith's most smoothly coherent release from start to finish, each moment as catchy and smooth as the last. Driving a brazenly radical album to the top 10 of the UK album chart for over a month, including a stint at the top spot is no mean feat to boot.
4. Nicholas Payton – Afro-Caribbean Mixtape
In a career spanning more than two decades, Nicholas Payton has become an iconic figure of American jazz music, prolifically writing, recording and pioneering. Arguably his best work to date, Afro Caribbean Mixtape brings refreshing and relaxing sounds lucidly wrapped around a scathing analysis of race and racial oppression within contemporary society, seasoned with well placed samples. Provocative and outspoken, majestic and multi-layered, this is one of those album's that you need to come back to again and again and again.
3. Enter Shikari – The Spark
Never ones to miss a beat or rest on their laurels, in 2017 St Albans genre disfigurers Enter Shikari gave us the fifth full length album. Ever the innovators and experimenters, this year's exploit is probably their softest release to date, but it is no less ambitious. Lyrically re-treading two familiar fields of political critique and space travel The Spark is for the most part melodic, anthemic and deeply atmospheric, even in the more cutting moments like Take my Country Back. It's almost the sole responsibility of album middler Rabble Rouser to maintain the brutality and aggression that has been one of the many staples of Shikari's work to date.
While many have bemoaned their move from their post-hardcore roots, it is the evolution of Enter Shikari over the years that ensured their longevity and continued relevance. The Spark is an important step in that evolution and unsurprisingly stands as powerful and unique release.
2. Benjamin Zephaniah – Revolutionary Minds
2017 saw legendary Brummie poet Benjamin Zephaniah return to the world of music for the first time in over 10 years with the unmissable Revolutionary Minds. Featuring a mix of brand new tracks – including some phenomenal collaborations – in addition to musical renditions of some of his most famous poems, Revolutionary Minds encompasses everything we've come to love about Benji: thoughtful wordsmithery, positive and forward thinking radicalism and an unparalleled ear for a beat.
Whether it's the ecological manifesto found in Earth Liberation Sound, the political autobiography of I am a Revolutionary or the utterly infections The Bass is Coming Down, each one of these 14 tracks demonstrates what we already knew – that age and attempts by the establishment to co-opt his legacy hasn't mellowed Birmingham's most treasured radical dub poet a jot.
1. Sleaford Mods – English Tapas
Few musicians come to define an era – their sound, words or imagery becoming synonymous with the political, cultural and social realities of the time. Sleaford Mods are one of those rare few, discordantly encapsulating the bleakness of Britain outside London in the fallout of the 2007 financial crisis.
English Tapas is a typically angry output from Nottingham's finest export, coarsely blending the essence of punk and hip-hop with an acerbic social commentary to produce another seminal album that deftly describes the geographies and politics of the post-industrial Midlands. From the snarls and growls of Snout or Carlton Touts to the softly poetic BHS, Jason Williamson and Andrew Fearn might not have pulled together the cleanest release of the year, but definitely the most important.
---
The Norwich Radical is non-profit and run by volunteers. All funds raised help cover the maintenance costs of our website, as well as contributing towards future projects and events. Please consider making a small contribution to fund a better media future.