With the world's media spotlight being thrust on ISIS, the UK General Election, and the Ukraine, one major issue being overlooked by many is that of modern-day torture. And yet, despite its relatively lesser coverage, the issue is just as relevant as ever in many parts of the world today.
To highlight this matter, Amnesty International UEA will be holding its Stop Torture Vigil at The Square, University of East Anglia. The event will be held March 20, 2015 (Week 10) at 7:30pm, as part of Amnesty's Human Rights Week which is campaigning to stop torture globally. They have previously campaigned to raise awareness on Saudi Arabian activist Raif Badawi, as well as British Guantanamo Bay detainee Shaker Aamer.
By now, you may have heard of the plight of Raif Badawi — Saudi Arabian writer, activist and creator of controversial website Free Saudi Liberals, which was envisaged as a forum for political and social debate. His case has been covered extensively in recent months by The Guardian, CNN, and The New Statesman.
On June 17, 2012, Raif was arrested by the theocratic state for allegedly 'insulting Islam' through this website — according to Human Rights Watch, the site featured material criticizing senior religious figures in Saudi Arabia and had suggested that Imam Muhammad ibn Saud Islamic University had turned into 'a den for terrorists'.
In December 2012, he was brought to court on charges, which included apostasy, a conviction that carries an automatic death sentence. In July 2013, Saudi media reported that Raif had been sentenced to seven years in prison and 600 lashes for founding the online forum, which the court also ordered to be closed. In May 2014, Raif Badawi was re-sentenced to 1,000 lashes and ten years in prison. He also received a fine of one million riyal (about £173,000).
The lashes are to be carried out over 20 weeks, for which the first 50 were administered on January 9th 2015 before hundreds of spectators in front of a Jeddah mosque.
Raif awaits 950 more lashes and will be publicly flogged 50 times every week, after Friday prayers. The second set has so far been postponed five times. The reason for the most recent postponement is unknown, but is said to be due to Raif's poor health. His wife has claimed that Raif would not be able to survive another lashing.
Badawi had initially been detained on apostasy charges in 2008, but was released after a day of questioning. But in 2009, the Saudi government banned him from leaving the country and had his bank accounts frozen. The family of Badawi's wife subsequently filed a court action to forcibly divorce the couple on the grounds of his alleged apostasy. His wife, Ensaf Haidar, and their three children went on to obtain political asylum in Quebec, Canada, in 2013.
Following his 2012 arrest, Amnesty International designated Raif a prisoner of conscience, claiming he was merely detained for peacefully exercising his right to freedom of expression. Human Rights Watch called for the government to drop the charges.
In the second case being highlighted by the vigil, Shaker Aamer is a Saudi citizen held by the U.S. at Cuba's Guantanamo Bay detention camps, where he has been held for over 13 years without trial or charge. He was arrested shortly after the September 11 attacks in Jalalabad, Afghanistan, on November 24th 2001, and was rendered to Guantanamo on February 14th 2002.
Aamer had taken his family to Afghanistan in 2001, where he was working for an Islamic charity, when the U.S. invaded the country later that year. The Northern Alliance took him into custody in Jalalabad on November 24, 2001 and handed him to the Americans, who paid ransom for Arabs handed over to them.
According to documents published in the Guantanamo Bay files leak, the US military believed that Aamer was a 'recruiter, financier, and facilitator' for al-Qaeda, based partially on evidence given by a fellow Guantanamo detainee. The leaked documents alleged that Aamer had confessed to interrogators that he was in Tora Bora with Osama bin Laden at the time of the US bombing. Aamer has denied being involved in any terrorist activity. His lawyer said the leaked documents would not stand up in court, and instead claimed that evidence came partially from an unreliable witness and that confessions Aamer made had been obtained through torture.
In 2012, the Bush administration admitted that it had no evidence against Aamer.
From 1989 to 1990, Aamer lived and studied in Georgia and Maryland. During the Persian Gulf War, he worked as a translator for the U.S. Army. He later moved to the United Kingdom in 1996 where he met his wife, Zin Siddique, a British woman. They married and have four children. Aamer has never met his youngest son Faris, who was born after his imprisonment. His wife Zin Aamer has suffered from depression and mental episodes since his arrest. In January 2010, his 12-year-old daughter Johina wrote a letter to Gordon Brown asking for his release, while the UK government has been demanding his release for many years.
Aamer has also been described as an unofficial spokesman for the detainees at Guantanamo. He has spoken up for the welfare of prisoners, negotiating with camp commanders and organizing protests against cruel treatment. He organized and participated in a hunger strike in 2005, in which he lost almost half of his weight. As a result of his plight, Aamer's mental and physical health has said to have declined over the years. He is also said to be riddled with arthritis and other medical problems, which he has not received adequate medical treatment for.
Shaker is one of over 100 detainees still languishing in the infamous camp. In February 2011, Amnesty International called Aamer's ongoing incarceration a 'mockery of justice' and denounced the cruel limbo he has been left in.
Two days after taking office in 2009, President Barack Obama pledged to close the notorious US Navy base in Cuba within a year. However, six years on and Guantanamo remains open — progress on closing the camp has been repeatedly stalled by Congress. A damning Senate report summary on the CIA's use of torture (during the counter-terrorism programme in the aftermath of 9/11) was released in December 2014, which revealed how the CIA used waterboarding, 'rectal feeding', mock executions, sleep deprivation, stress positions and other inhuman treatment in secret CIA-run prisons across the world.
However, how deeply the UK was involved is still unknown. Shaker's lawyer maintains that Shaker is still imprisoned because he witnessed US and UK agents torturing men while he was in US detention.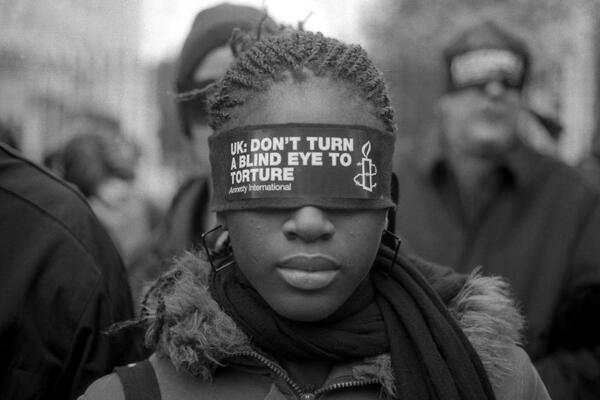 To sign the Stop Torture petitions, visit:

For more information on the event, visit Amnesty International UEA's Facebook page, or email them at amnestyuea@gmail.com.